Forrest Whaley Wiki
Welcome to the official Forrest Fire Films Wiki, a collaborative encyclopedia for everything and anything related to Forrest Fire Films! There are 157 articles and we are still growing since this wiki was founded. The wiki format allows anyone to create or edit any article, so we can all work together to create a comprehensive database for the Forrest Fire Films franchise. Don't forget to visit this wiki's Rules & Guidelines before editing.


Today is the 24th, and currently there are 3,562 edits to this wiki.
Who is Forrest?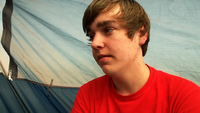 Forrest Whaley is a 19 year old American stop-motion film director who became popular by uploading Lego Batman videos under the YouTube alias Forrestfire101 (Joined May 30th 2007) and Forrestfire1001 (Joined May 23rd 2008). His aim is to become a movie director or producer and stated on Nick News that without his youtube he would have a lot less of a chance to become what he wants. He began his youtube career by posting short lego videos on his channel and later started computer animation (Spider-man Theme Song Parody) and Sketches (Invisa Ads). He has also experimented with live-action, making films like "Rebirth" and "Zombie Universe". More...
Movies in the Making
Taken from Forrest's YT Channel.
I'm Forrest and I make videos using Legos and my friends. The Legos are nicer to me.

(in descending order of urgency)

-Lego Batman - Obstacle Course
An idea I've had for a while. Will be shorter like "Batz Attack". Should be around 2-4 minutes.

-The ForrestFire Christmas Spectacular - 3rd Annual
This will be the last Christmas Spectacular. These things take a while to make and I'd rather spend the time making content not limited to seasonal viewings.

-New Cartoon Series (working title)
This is a new show that I've been developing with various people for the last couple years or so. I'd really like to get it off the ground sometime soon but we will see...

Polls
What is your favorite segment on Forrest's YT?
Did You Know...
...that Forrest was featured on an episode of Nick News?
...that the Duck Song is Forrest's most watched video?
...that Forrest worked with Shane Dawson in The Lego Batman & Spider-Man Movie 2?
...that Mason and Forrest have both voiced Nightwing in Lego Batman?
...that Forrest voiced as Edward Cullen in "Lego Batman Helps The Riddler"? (Lego Batman Helps The Riddler was created by Brickbibrickfilms)
...that Forrest and Sean Willets have worked on multiple videos together. eg Lego Justice League
forest. ... got any grapes?
Helping Out
To add more Did You Know, click here.
To write a new article, just enter the title in the box below.
Latest Video
Help
</center>

Do you have any questions?
Ask one of the admins.
Featured Character

Batman is a fictional character of the DC Universe and is also in many of Forrest's lego videos. He is the homophobic billionaire playboy, Bruce Wayne, but his secret identity is the crime fighting Batman. He is portrayed by the creator, ForrestFire101.
Community content is available under
CC-BY-SA
unless otherwise noted.